Web 2.0, Accessibility and New media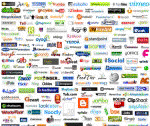 Web 2.0 is the 2nd generation of web where online content and applications are created, collaborated on and shared by the web community. It describes the web as a community controlled interactive tool rather than a publishing medium, which creates an environment for collaboration, communication, information distribution and sharing. Some of the elements of web2.0 are descrbed below.
Social media or online mediums facilitate social interactions especially sharing of content, opinions, insights, experiences, perspectives, and even actual media. Social media takes on various forms including blogs, communities/social networks, wikis, podcasts, vlogs.
Blogs and simple content management systems designed to make content publication simple for non technical people for maintaining online diaries. Blogs have evolved to be key drivings of news and discussions online due to the ease of use and immediacy of outputs. They have also become an integral part of many integrated marketing strategies as they provide a great tool for building communities, managing online PR and contributing to other efforts such as Search Engine marketing.
Communities, forums, networks help find information and allow closer interaction with other members, and people can socialize 'virtually'.
Mash-ups allow users to mix applications, media or tools that include data, content or other services to provide a single integrated experience.
Vlog or video blogs, and podcasts or audio files can be downloaded and shared through the website, and the content syndicated.
Social Bookmarking allows you to store and tag websites and internet resources using online tools that are quite like browser bookmarks--adding to favorites. You can then share, and offer a valuable human-edited resource for other internet users.
AJAX powered interactivity, speed and functionality of websites and web-based applications.
RSS/Atom Feeds for sharing content, is one of the easiest ways to syndicate content and get updates from publishing platforms such as blogs and websites.
Wikis or community publishing platforms allow users to create, edit and control content. Wikis are collaborative projects that can be used to create extensive databases with the resource developed and expanded by its users.
And finally, XML—Extensible Markup Language is the common denominator that drives most web2.0 applications and allows data sharing online, including complex data structures and documents across multiple platforms. Users can define their own tags and is the basis of the feeds and syndication that are driving web 2.0 content distribution.